Tin-kettling
Podcast: Play in new window | Download (Duration: 39:05 — 13.9MB) | Embed
Subscribe: Apple Podcasts | | More
Wherein tins and nerves are rattled.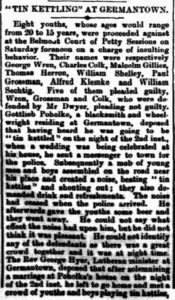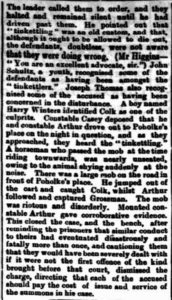 Geelong Advertiser, 12 January 1885, p. 3, cols. 4-5
See the rest of that day's news here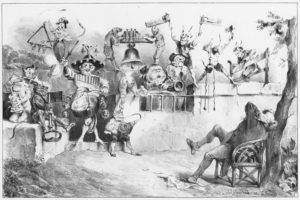 A bawdy depiction of charivari by the French caricaturist J.J. Grandville.
It appeared in the journal La Caricature in 1831.
Here's a rare image of colonial tin-kettling, roughly contemporary with the events at
Germantown –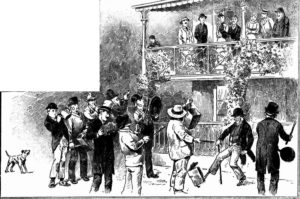 It comes from page 8 of the Sydney Mail & New South Wales Advertiser of 18 December 1886,
where it was one of a series that purported to illustrate 'A Country Wedding'.
The accompanying article (on page 26 of the same issue) described the tin-kettling
depicted.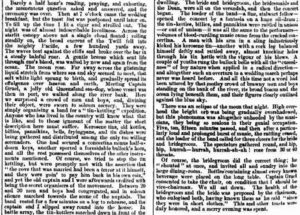 Read the entire article here
Note that the humble kerosene tin featured prominently in both illustration and text.
Here's an example the genuine article – from its undented condition, evidently not
used in tin-kettling – from the collection of the National Museum of Australia.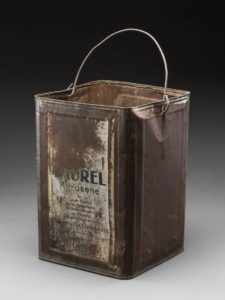 Something I ran out of time to mention in the podcast was the other kinds
of tin-kettling reported in 19th-century Australian newspaper. Dogs were
relentlessly tin-kettled, for 'fun', by having tin kettles tied to their tails. And
the tin-kettling of bees was a traditional (if rarely effective) method of coaxing
a swarm back to the hive. Here's a report of an apicultural tin-kettling – or
tanging – from the Mount Alexander Mail in 1872.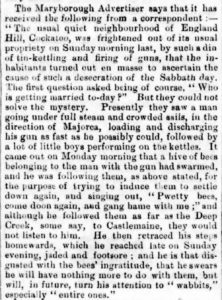 Illustrations of colonial tin-kettling are hard to come by. But here's one,
from the Sydney Mail & New South Wales Advertiser on 15 February 1905 –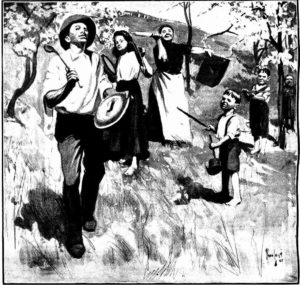 By illustrator Fred Leist, it accompanied 'An Unexpected Swarming', Chapter VII
of the Sydney Mail Prize Story, 'Children of the State' by John Primrose –
'…and then into view came the queerest procession. In the lead, the preacher, beating
a boiler lid with an old iron spoon as though his life depended on it; nearest to him, Ruth,
with uprolled sleeves, clanging two saucepan lids together like any Miriam of old; third
on the list, and panting with the exertion of carrying a kerosene bucket in one hand and
banging it with the rolling-pin held in the other, walked and half trotted Aunt Susan, and
lastly, in the rear, in the van, and every where, able for once to make all the row they liked,
were the children, seven all told, and trebling for noise the three adults. No one took any
notice of 'the little teacher' as the procession swept by. Their eyes were on 'Cousin Dan,'
and his on a thin black cloud that buzzed and fluttered before him…'
Read the whole thing here
And finally, here's the very last account of full-throated tin-kettling
I turned up at Trove Newspapers, from page 46 of Sydney's Daily Telegraph
on 8 March 1953 (read the whole report here) –


and the cartoon that accompanied it –