Buried Treasure
Podcast: Play in new window | Download (Duration: 35:23 — 12.6MB) | Embed
Subscribe: Apple Podcasts | Stitcher | | More
Wherein we entertain tales of treasure and avarice.

Men Dig in Richmond Yard And Carry Away – What?
(the question-mark, perhaps)
Sun News-Pictorial, 27 March 1936, p. 4 (copied from microfilm at State Library Victoria)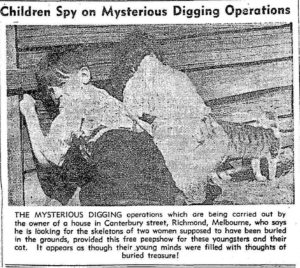 Children Spy on Mysterious Digging Operations (News (Adelaide), 30 March 1936, p. 3)
https://trove.nla.gov.au/newspaper/page/11034096

One of the Spanish Prisoner letters found by historian Robert Whitaker in the
British National Archives. Purportedly written by one Luis Ramos, it was received
in 1905 to Paul Webb, a London shopkeeper.
Take a closer look and read Whitaker's article, Proto-Spam: Spanish Prisoners and Confidence Games,
and see more examples here, from the archives of Plymouth Libraries.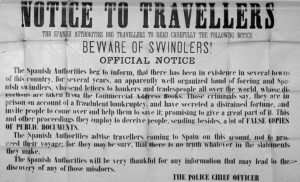 Warning issued by the Spanish Government in 1908
– National Archives (UK): HO 45-10500-120541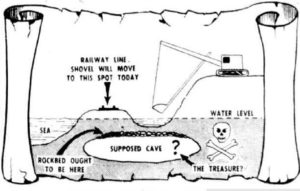 The hunt at Queenscliff for Benito Benita's treasure – if only it were that easy.
(Herald, 24 March 1954, p. 3). Read the full account here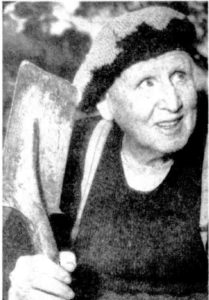 Mr Don Nicholson with his favourite spade (Herald, 8 April 1954, p. 12)
See more photos of his treasure-digging venture here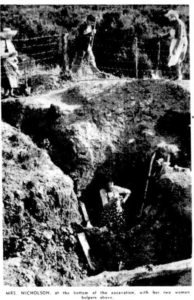 Three Women Dig for Treasure Charter – Lillian Nicholson and her sisters
continue the search (Herald, 20 December 1954, p. 5) See it on the page here
Got the treasure bug? Find links to stories about the fabulous
Wiberg's Gold here and also here