A Bit of a Ventriloquist
Podcast: Play in new window | Download (Duration: 35:13 — 12.6MB) | Embed
Subscribe: Apple Podcasts | Stitcher | | More
Wherein voices are thrown and pigs educated.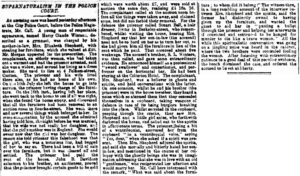 Age (Melbourne), 27 September 1884, p. 10, col. 6
Read it with the rest of the day's news here.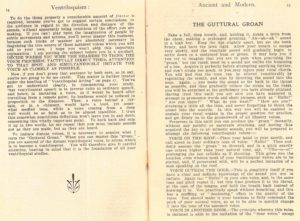 from Ventriloquism: Ancient and Modern – Containing A Complete Explanation
of the Secrets of Ventriloquistic Deception by Richard Hughes, Exchange Press,
264½ Post Office Place, Melbourne, 1902. Anyone wishing to perfect the guttural groan
could do worse than browse the State Library Victoria's digitised collection,
which includes several manuals of ventriloquism.


Ballarat Star, 16 April 1888, p. 2, col. 6.
Read it on Trove here.
Frank and Stuart Bell married sisters, Isabel and Rachel Harvey, in 1882-3.
Isabel would die in childbirth in April 1886; the baby boy lived just 11 weeks.
About 18 months later Frank remarried, but the union appears to have been
short-lived –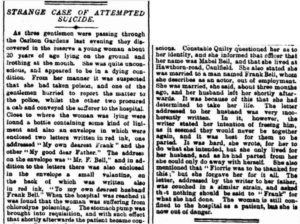 Age (Melbourne), 16 February 1888, p. 5, col. 3 (read it in situ).
'Florrie was to be thanked for this,' Mabel wrote. Florrie? Not Florrie Williams, surely?
When the society rag Table Talk reported the incident, it was almost as a cautionary tale –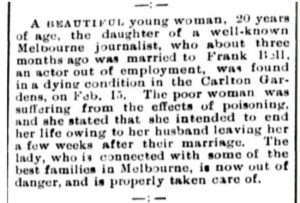 Table Talk (Melbourne), 24 February 1888, p. 14, col. 3
Read the report in situ, nestled amid wedding announcements and accounts of
social success.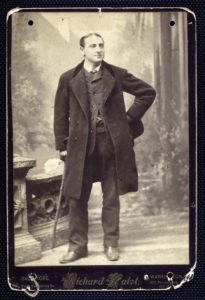 Arthur H. Bell, the eldest, operatic Bell brother.
– from the Billy Rose Theatre Collection, New York Public Library
(Image ID 81284)
This episode of Nothing on TV draws on Victorian and NSW
Births, Deaths & Marriage records available online.
Records for most Australian states are now digitised and
searchable online. Try these links –
Victoria
New South Wales
Queensland
South Australia
Western Australia
Australian Capital Territory (access to some indexes online)
Online access to Tasmanian records isn't yet available, but is in progress.