The Suburban Ghost – ep. 7 (season finale)
Podcast: Play in new window | Download (Duration: 30:51 — 11.1MB) | Embed
Subscribe: Apple Podcasts | | More
Wherein we encounter a 'phosphorescent charmer' in fin de siècle Melbourne .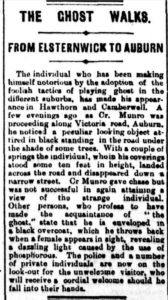 Herald (Melbourne), 8 August 1892, p. 2, col. 8
See it on the page, here.
Did you know that The day the ghost walks is slang for pay-day? Originally theatrical slang,
it supposedly originated among the cast of an early production of Hamlet. Much later, it would
come into more general use, though mainly in the US.
And speaking of the theatre, Melbourne's suburban ghost went on to share a bill with a
lady contortionist in a 'screamingly funny farce' –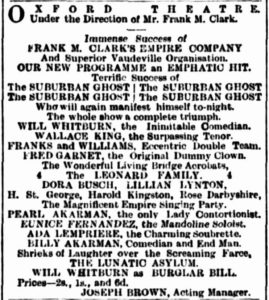 Argus (Melbourne), 5 August 1895, p. 8, col. 7
Like to know more about the legend of Spring-heeled Jack, the (not-quite) original
suburban ghost? For a brief run-down, take a look at the Atlas Obscura entry – chances are
you'll find plenty more at Atlas Obscura to snag your interest. Or for the (obsessively) full story
(on an orange background, no less), immerse yourself in The Complete Spring Heeled Jack Page
– just don't say I didn't warn you.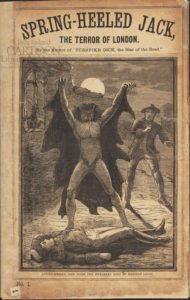 Spring-Heeled Jack, The Terror of London No. 1.
From the San Francisco Academy of Comic Art, the Ohio State University Billy Ireland Cartoon Library & Museum.
This 'penny dreadful' series ran to at least 36 issues. See more of the covers here.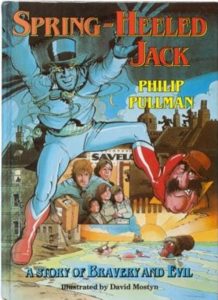 Cover of Spring-Heeled Jack, a 1991 graphic novel for kids by Phillip Pullman, who would go on to write
the acclaimed 'His Dark Materials' trilogy for young adults. And speaking of daemons…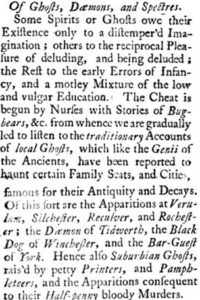 Universal Spectator (London), 7 October 1732
This is the earliest mention I've been able to find of 'suburban ghosts'.
The suggestion here seems to be that such ghosts are 'raised' (i.e., invented) by
'petty Printers and Pamphleteers' in order to sell more papers – a suggestion
echoed in a regional Australian newspaper 173 years later: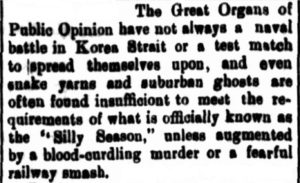 Dubbo Liberal & Macquarie Advocate (NSW), 10 June 1905, p. 6, col. 4