Champagne & Anarchy – ep. 4
Podcast: Play in new window | Download (Duration: 28:19 — 10.2MB) | Embed
Subscribe: Apple Podcasts | | More
Wherein we have our cockles warmed by Lord Hopetoun's liquid largesse, as dispensed by an anarchist on the mean streets of Melbourne in 1902.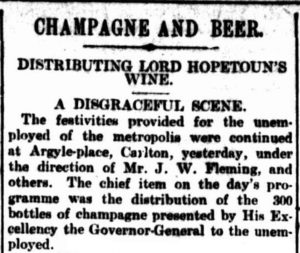 Argus (Melbourne), 26 June 1902, p. 5, column 3
Read the whole of the report, plus all that day's news (including the king's illness) here.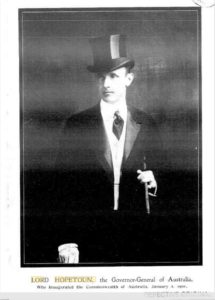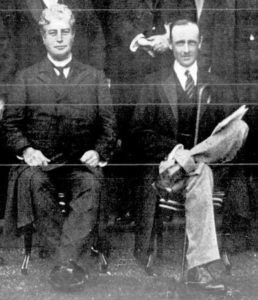 Critic (Adelaide), 5 January 1901, p. 3                                Australasian, 12 January 1901, p. 29
(Left) An official 1901 portrait of the G-G. Note the stamp, defective original, at the foot of the page. This
seems to refer to the newspaper, not Lord Hopetoun – notwithstanding views expressed in the Barrier Miner.
(Right) His Excellency's safari pants and yoga pose strike an informal note, compared with Prime Minister
Edmund Barton's dress-suit, in a photo taken following the swearing-in of Australia's first federal cabinet.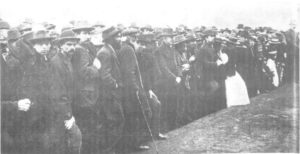 The crowd in Argyle Place, Carlton, on the morning of Wednesday, 25 June 1902.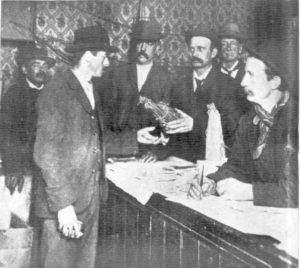 'Mr Fleming hands out the first bottle of Lord Hopetoun's gift (25 dozen champagne)'
To qualify for a bottle, you had to have a 'tache. Note that the bottle is still packed for shipping
in a protective coating of… could they be grapevine cuttings?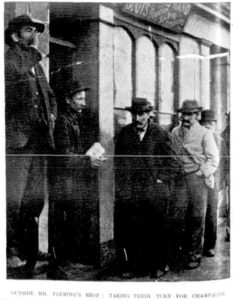 A queue (possibly those troublesome Smiths) outside the bootshop.
One of Chummy Fleming's confederates (left) shouts the next name on the list.
The above three photos come from the Australasian, 5 July 1902, p. 28
Take a closer look here – you'll notice that, at the bottom left-hand corner of the page, a photo of the
bacchanal at the beer barrels has been partly torn out of the copy of the Australasian that was digitised.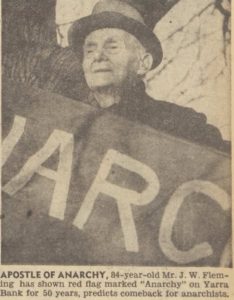 Australian Women's Weekly, 27 September 1947, p. 25
J.W. (Chummy) Fleming, still waving the flag at Melbourne's Yarra Bank speakers' corner in 1947, three years before his death.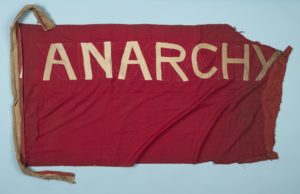 And here is that flag – now in the Realia Collection of the State Library of Victoria (Accession no: H89.109/2)